A few years ago I had an idea to create some sort of low budget video to accompany my song An Owl. I'd never done a storyboard before but I knew that's what you're supposed to do if you're serious about making a film. I'm not very good at drawing, but I gave it a go anyway.
A few days ago I came across the result while looking for some lyrics so here it is followed by some detailed comments and then at the bottom there's a chance to hear a brand new recording of the song which was written over 30 years ago.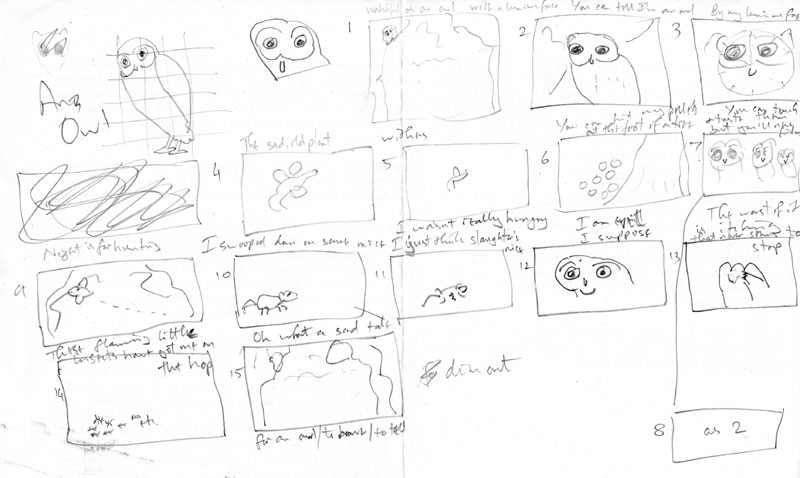 My first attempt at drawing the owl's head was obviously not a success. I'm not sure why I thought an owl should have ears like a teddy bear's and black holes for eyes. I then seemed to manage a decent drawing of an owl which must have either been copied from somewhere or drawn by someone else.
But by the time I came to draw the frame for the line,
by my luminous face
my attempt to superimpose the owl face on a watch face was obviously so demanding that I reverted to the stick-up ears.
I believe that I excelled myself with my representation of a withered plant, which for me has a Hokusai-like simplicity and strength.
By the time we reach the 7th frame it's not so much stick-up ears but some sort of dent in the top of the owl's head.
When we get to the lyric,
I swooped down on some mice
we get this frame
I can only see one mouse here. Unless the others are smaller and are hiding behind the big one. It is quite fat.
The dent in the owl's head has cleared up but now it looks a bit like ET. The point about ET was that he was an alien but he looked friendly like a bendy, squeezy childen's toy. But this ET owl isn't friendly – he's trying to look evil. The smile is malevolent and the eye on the right is looking into the distance, daydreaming about acts of depravity with a hint of Orson Welles in A Touch of Evil or possibly Robert Mitchum in The Night of the Hunter.
Further sign of laziness in the last but one frame which is supposed to be of a number of parasitical insects. After drawing a few, the word etc asks you to expand the paltry depictions of what are supposed to be bird-ticks in your mind's eye.
And finally, here is the new recording
An Owl