first i must explain the ethos behind this the 9th granite mix. which is that i used my box to create a playlist. the songs chosen to make up the playlist all are chosen with 2 common letters – in this case m and y. this conceit has caused some repetition in artists that have previously featured but ultimately that's taste…
the advantage of the playlist is that it does a segue/fadein-fadeout between the tracks. just about everything that was selected in this case seemed to have a long fade-out which pretty much negates the effect of the segue. still nothing becomes improvisation but artifice as they say in the old guignol street presentation…
mys mr fahey suffered from epstein-barr syndrome when he recorded this album. somehow that's not a problem for me. i also love bill evans solo album … which was not released at the time because it was thought to be so bad. see further down the playlist for mr evans but not that album. a new film about john is going to be shown on bbc4 on dec 6.
i think french rap could have been sold better in the uk if we hadn't been so up ourselves. here's the video if you like this.
myt the only myth on my unit. sun ra is a big myth. and not only is he a myth but he is also a mystery.
my(+space) i am fortunate to have seen sharon van etten twice. once on her own and once with a band. i do not know which to prefer the beauty of inflexions or the beauty of innuendos.
my romance. now it's getting quite intimate. that's the trouble with m and y maybe i should have chosen something a bit more random, like a and s
and then gerald finzi comes along and sorts it out. hopefully.
joseph spence makes me reconsider my whole approach to singing. somehow i feel he is challenging me to reassess and reorder. above all in 2014 i want to write a song in esperanto.
whereas rambling on my mind tracks into the veracity of priesthood. the crossroads are literally that – roads where you might find the cross.

what was born in those gospel tours that monk did when he was just a lad?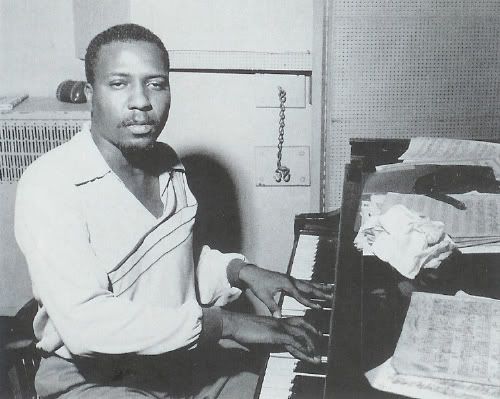 a couple of british guitarists to end with. why didn't anyone at island records make sure that there were decent live recordings of the many gigs that chris spedding did with john cale? were they coked out of their brains or something?
sorry song for my mother is from a vinyl digitisation and i increased the gain slightly but it's a bit distorted. i'm sure you can download it for a small fee if you want to hear it perfectly. i could quote a 3rd great british guitarist on this subject but won't right now.
finally chris spedding showing his mettle. thanks to michael mantler for this great album which along with no answer and the hapless child are i think the best literary albums ever.
here's the mix

Granite Mix 9

| Artist | Title | Album |
| --- | --- | --- |
| John Fahey | The Evening Mysteries Of Ferry Street | I Remember Blind Joe Death |
| Soon EMC | Elucider Ce Mystère | Giant Steps |
| Sun Ra And His Myth Science Arkestra | Big City Blues | The Singles |
| Sharon Van Etten | Where Is My Love | Home Recordings |
| Bill Evans Trio | My Romance | The Village Vanguard Sessions |
| Finzi Singers | My Lovely One | Gerald Finzi Choral Works |
| Joseph Spence | Gonna Lay Down My Sword And Shield | Gospel At Newport |
| Robert Johnson | Rambling On My Mind | The Collection Johnson 20 Blues Greats |
| Thelonious Monk | This Is My Story, This Is My Song | Straight No Chaser |
| John Cale | My Maria | Helen Of Troy |
| John McLaughlin | Song For My Mother | My Goal's Beyond |
| Michael Mantler | I Walk With My Girl 2 | Silence |