At last I have managed to finish the demo I started a while ago. It gives me a chance to put up a couple more bits of Hergé artwork in an unassuming manner. I can't see the harm in it myself. I've called it RV Marche RG which is pronounced as if you were speaking French to give it an English quasi-phonetic spelling it would be 'ervay marsh erjay' or something like that but really you need to get that guttural French R to give it it's most satisfying rendition. Really I know that properly my initials should be reversed and be 'vayeur' rather than 'ervay' but the thing is I've never reversed my initials – yeh sure I've reversed the letters of the name because that makes Trebor Yesav which could easily be a Georgian sculptor or a Macedonian boat-builder – but Georges Remi did reverse his initials which gave him his distinctive pen-name.
The song stems from a street near where I live which for some reason I call Tintin Street. Quite often when I'm coming home late at night I pause for a while on this street (which is quite a steep hill) and reflect. I've thought a lot about why I call it Tintin Street but I can't quite pin it down. It was sort of an instinctive thing. I've looked through the various books trying to find some point of reference but with no success so far. Here follow some street and house images from the cartoons.
My Tintin Street is very different from the actual street that Tintin lived on. We just get glimpses of that. Here seen from a vantage point slightly higher than the 2nd floor window suspended in the air outside the building.
And here from the middle of the road outside. It's quite a busy street in the middle of town. As you can see the glimpses of the street usually coincide with a dramatic incident – abduction in both these cases. Firstly Bunji Kuraki of the Yokohama police force and secondly Tintin himself.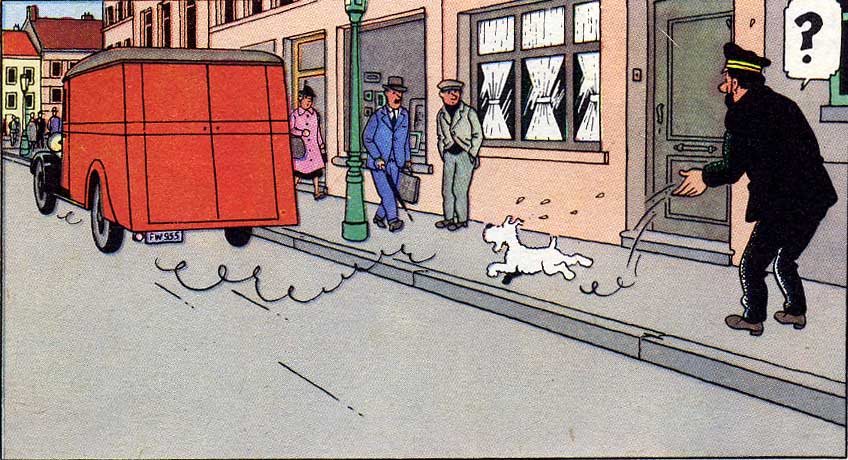 So what is the reference point? The madeleine in the tisane? Is it the balconied window?
Or maybe just the shutters?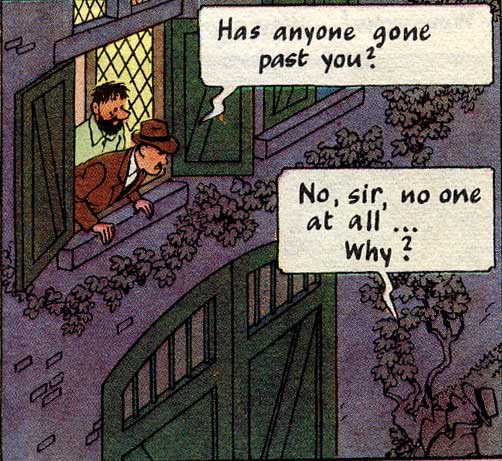 It could be the long, high concrete wall that I refer to in the 3rd verse of the song. Plain walls are popular with cartoonists for obvious reasons.
Or possibly it's all a mistake and I was thinking of another famous Belgian.
[René Magritte L'Empire des Lumières (detail)]
Anyway here's the track.
RV Marche RG