The 2nd episode of The Newcomers is again well worth a watch for a number of reasons. One of the main of which for me is the ability to see the streets I wander round today as they looked 50 years ago. The sequence that starts at 1:20 passes at 1:33 the house where I live. If you pause there a small boy is just going past the house at that point. The milkman is about to deliver. As the car drives along the road there are a total of 5 cars parked outside houses. Any time of the day now that you drove down there now there would be over a hundred. For a couple of minutes the camera takes us past the streets that I walk sometimes of an evening. Here's a still which shows one viewpoint where I often pause to look over to Dundry hill and ponder on the distance and the weather fronts that usually come up that way. Once I took tripod and camera and filmed at night for quite a long time. I believe a moon was involved. Sadly I've never found and looked at that footage. This is one of the sightings of the building that I currently work in. In fact I spend a frustratingly large number of hours there at the present.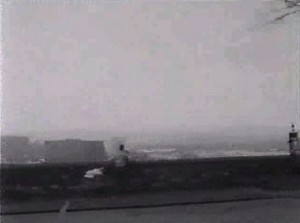 And here's a distant glance of another house I once lived at which is in the film at 7:39. That was between the years 1999 to 2001. You hope all your years are good some better than others you might hope I think those were good years in retrospect.
The other sequence that grabs me most in this episode starts at 34:25 and is a panoramic sweep taken from the topmost point of The Paragon which pans right to left from Clifton Suspension Bridge to Clifton Wood again passing the place I work which is pictured below. Now I come to think of it, it does certainly look like a prison. Well originally it was a prison for dried tobacco leaves I suppose, but let's face it they weren't sentient enough to know that it was prison, life had already lost its savour. I can get to that though. You know there are different types of reality and sometimes the paler, blander ones are fundamentally better.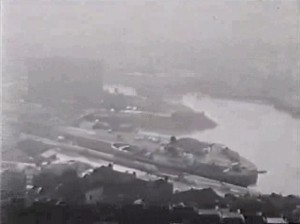 The final quarter of the episode features heavily the building I worked in before the current one and there's a still of that below. Actually they're both pretty decent places to work in. They're both historical buildings which counts for something to me. You get that element of history that doesn't come with a modern building unless it's a top design modern building.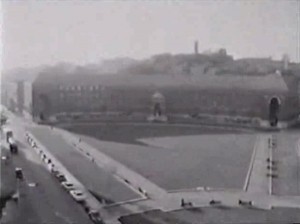 And finally here's the episode itself – it's nearly 50 minutes long.