The vast majority of my vinyl collection consists of LPs but I have a small number of singles. Some of them have great covers. Here is a selection.
This is a re-packaging of music probably about 30 or 40 years old at the time of release. Being a child of the time I particularly love the late 50s early 60s design style.
This one's not so tasteful though. It's from 1958 and possibly shows that UK design standards were behind US at this time. Still it's colourful and is not totally without charm. And another example of the then booming market in 45 inch singles. Here's the liner notes.
Yes, indeed it's Party Time – and there's nothing like a good old sing-song to get YOUR party under way. The drinks may be flowing nicely, the cigarette smoke curling up to the ceiling… and here's the record to get even that non-drinker non-smoker sitting over there in the corner, to join in the fun.

You couldn't have better guests than the Embassy Singers and Players, champion ice-breakers when you want things to go with a swing. They've brought along a dozen of the most popular songs of the century – so gather round your record-player, turn up the volume control (if all your neighbours are present) and let it rip. All together now…
I love this portrait of Los Llopis. It's obvious that the outer pair are brothers (presumably Manuel & Francisco Llopis). But I like to think that the two in the middle are brothers too. All I can find is that the other two musicians are called Manolo Vegas (vocals) and Leandro (saxophone). So Leandro could have been a Vegas too. Maybe he didn't use his surname so people wouldn't know.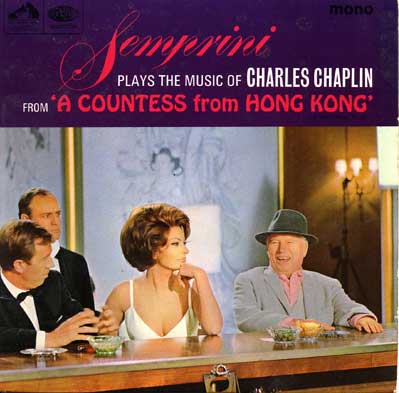 Finally a younger single – from 1967 this one. I bought it a few years ago from a charity shop. Not much to say about its design qualities. Not too much to it other than choosing between a couple of fonts and matching colours, but it's an interesting enough photograph of what looks to be a press conference promoting Chaplin's last ever film. Sitting alongside the director is the film's female star, Sophia Loren,while the male lead, Marlon Brando, is behind on the left. I've never seen this film, which pretty much bombed apparently on first release. I'd like to see it some time, because it strikes me that Chaplin wasn't capable of making a bad film.