In the summer of 1959 when I was 5 years old, my family went on holiday to the isle of Arran. There were a few firsts involved. It was the first time I'd been on a boat of the size of the ferry and it was the first time I'd been to Arran. My mother had bought me a book to take on holiday with me, and she gave it to me when we were on the boat. At the top it said
H E R G É
then underneath
THE ADVENTURES OF TINTIN
then underneath that
RED RACKHAM'S TREASURE
and right at the bottom
METHUEN
most of the cover was a picture of a boy and a dog in a small submarine that looked like a shark, moving close to the sea-bed. So this was my first Tintin book. Never mind that it was actually the 2nd one of a series of 2 books, that didn't make it any the less wonderful to a 5 year old child.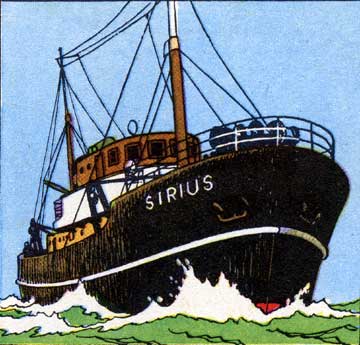 In Arran we stayed at Carrick Lodge, a guest house on the way out of Brodick on the road to Lamlash. We liked it so much there that we went back the next 2 summers and did it again. I think it was Mrs White who ran it then and mostly we seemed to meet the same guests there each year. Because I was quiet, clever, good with words but not overly precocious I was popular with the adults and one year I got a ridiculous amount of money (like 5 shillings maybe) for a milk tooth that came out while we were there. I've got a couple of shots of people in the garden at Carrick Lodge, and this is one of them. I'm on the far left, in the shade.
The Crab with the Golden Claws was the first Tintin book published by Methuen in the UK, in 1958. Over the next 4 years another 11 were hastily brought out to cope with demand. By the end of 1963 I had collected all of those. I remember getting The Castafiore Emerald for Christmas that year and being a bit disappointed with it. Later I learnt to appreciate its finer points. I haven't got a complete set of those early UK publication 1st editions, sadly I learnt the hard way about the dangers of lending books to other people, especially people you don't know that well, but I have most of them and they're a pretty battered set having been read countless times over the years by myself and many other children.